Save Money By Ordering Multiple Bags Or Sign Up For A Subscription For Discounts
You can save money on this page by ordering coffee as a subscription or ordering more than one bag. If you order one bag as a monthly subcription you'll receive a discount. You'll also receive a discount by ordering monthly bundles of coffee. The more you buy, the more you'll save! Give it as a gift or indulge yourself in the spirit of independence!
Who is AP?
Who is AP4Liberty? 
AP4Liberty is Austin Petersen! He's the host of the Wake Up America Show with Austin Petersen. Petersen's a liberty activist, pundit, and entrepreneur. AP runs the AP4Libertyshop website with his loving wife Stephanie, and our first employee Nathan Clark.
Serving Your Needs
We are so excited to be able to serve you and to grow a business based around our shared interest in freedom, liberty, and America! We love the Founding Fathers, the Constitution, and free market capitalism.
We'll always strive to give great customer service and to respond to your needs quickly and to your satisfaction. If for some reason you have an issue, we will strive to make it right. Please don't hesitate to reach out to us at stonegaitpictures@gmail.com and we will get to your query as quickly as possible.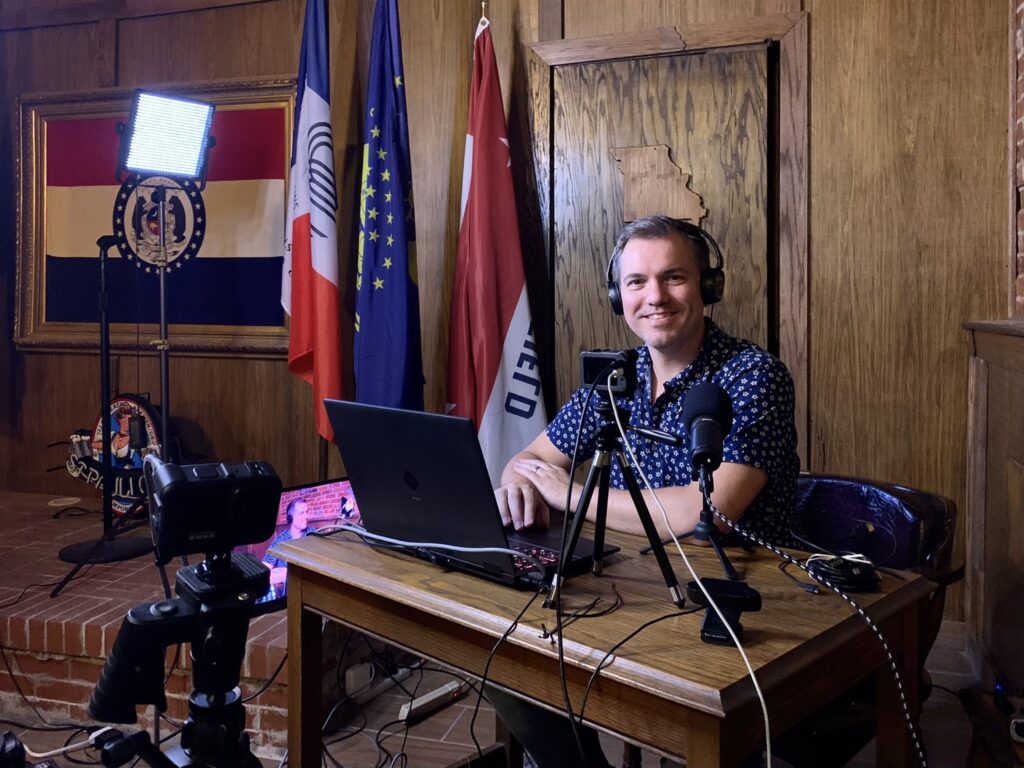 Austin Petersen is the host of the Wake Up America show on Youtube.com/AP4Liberty from 7-9am central.
Petersen is a former Republican senate candidate in Missouri in 2018 and a former candidate for the Libertarian Party's 2016 nomination for President of the United States, taking second place in a crowded primary behind Governor Gary Johnson, and ahead of cyber security maverick, John McAfee. Petersen earned many high profile endorsements in his run for the White House, including that of Mary Matalin, Erick Erickson, and Leon Wolf of RedState.com.
Austin Petersen is the owner and chief executive of Stonegait LLC, a for-profit publishing and consulting firm. Stonegait provides social media solutions, campaign expertise, and grassroots fundraising strategies. Stonegait owns and manages dozens of web properties, including the popular AP4Libertyshop.com merch website for patriotic products. 
Petersen was the Director of Production at FreedomWorks and an Associate Producer for Judge Andrew Napolitano's show, "Freedom Watch" on the Fox Business Network. Petersen built Judge Napolitano's social networks, boasting millions of clicks a month.

Petersen owns The Libertarian Republic.com and turned it into a powerful online news source for the public. As a publisher and professional pundit, Petersen grew The Freedom Report and Wake Up America show podcasts into top audio news sources. 
His work has appeared in Getty, Reuters, the LA Times, NBC and Time Magazine. His famous "Toy Gun March" and charity fundraiser was an international news story, raising thousands for the U.S. Marines charity Toys for Tots and making a pointed statement, with a satirical twist, about the importance of 2nd Amendment rights.
He is also a frequent contributor on television appearing on Fox News, Fox Business, and on dozens of local radio shows. Petersen appeared in Time Magazine for Microsoft's 2005 infrastructure sales campaign, and represented designer 191 Unlimited's premium summer fashion line. Petersen made his feature film debut as an Executive Producer through Stonegait with the famous science fiction novel Alongside Night, starring Kevin Sorbo. As a product demonstrator and Toy Soldier at FAO Schwarz in Manhattan, Petersen moved from the sales floor to management in six months, and was again promoted to the corporate office's buying team less than six months later. He even appeared on the Conan O'Brien show.
Austin grew up on a farm in the Midwest in a town called Peculiar, Missouri. Graduating from Missouri State University in Springfield with a BFA in musical theatre, Petersen moved to New York City after graduation to a pursue a career in media.
AP4Libertyshop.com is owned by Stonegait Pictures LLC, a for-profit LLC incorporated in the State of Missouri. Stonegait Pictures LLC is singularly owned by Austin Petersen. 
How does it work?
Customers who wish to purchase more than one bag of coffee, or order on a monthly basis will receive a discount. Discount plans start with 5% off for 2 bags, 10% off for 3 bags, and 12% off for 4 bags or more. Give the gift of Founding Flavors coffee to a patriot in your life or indulge yourself! You can cancel a subscription at any time.
Let customers speak for us